CO2 Flying Laser Marking Machine
Small size and the unique design structure is easy to install to complex or narrow space
Video
Product Details
1. Machine Advantages
* Small size and the unique design structure is easy to install to complex or narrow space.
* No limiting characters in the working area.
* Non-stopping working for 24 hours.
* Efficient high speed and reliable general can reach about 300m/minutes.
* Safety and environmental protection work does not produce pollution
* No daily consumption costs
* Marking effect is unique and clear, cannot be smeared and changed, water proof
* Not required for lack and offline maintenance
* US imported laser source, with super long lifetime: 45000 working hours
* Super strong anti-interference ability design
* Moisture-proof, dust-proof design
* special design for the structure, it is easy to dissemble quick-ware part without remove the main structure.
* Module design for the structure, it is easy to dissemble module component without affect the neighbouring components.
2. Application material
Metal with painting, wood, leather, glass, paper box, film, plastic etc.
3.Machine structure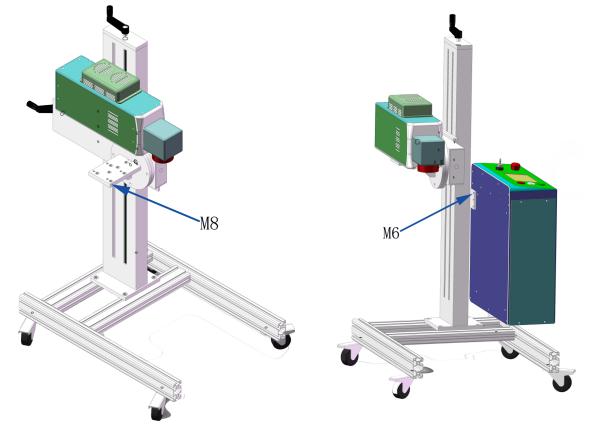 Stand:
Stand:
Easy install, easy move,
Easy adjust the height and distance.
It can fix the machine firmly and machine fixing angle can be adjust easily.
Water proof, easy to do cleaning behind the stand.
Easy to dissemble the machine without dissemble the stand.
4. Software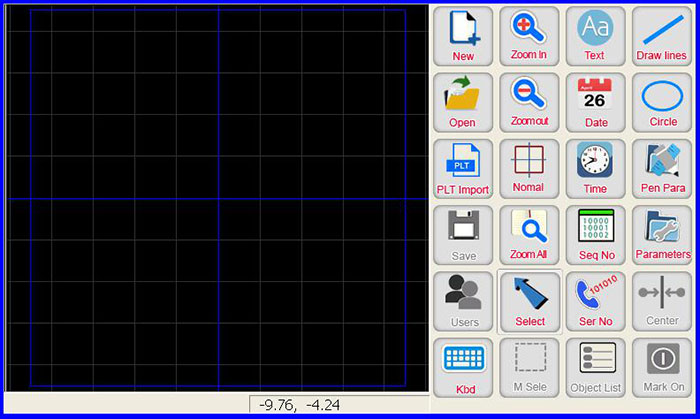 5. Unique Technology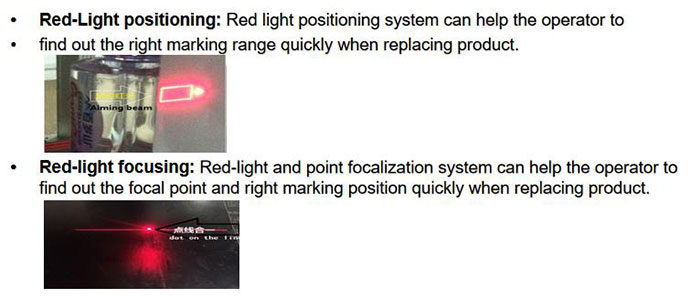 6. Technical Parameter
CO2 DS 30F
Machine general machine
Machine material
Aluminum structures
Generator laser
Enclosed metal for CO2 laser generator
Output power
≥30W
Laser wave length
9.3um
Lens
High precision 2 dimensional scanning system
Marking speed
≤18000mm/s
Main control system
Highly integrated motherboard, embedded 7 inch screen
Operating system
WIN CE
Cooling system
wind
Laser marking parameter
Focus zoom lens
focal length 130mm
Marking line type
Raster font, vector font for choosing
Min.line width
0.03mm
Repeat-ability accuracy
0.01mm
Working area
90mm×90mm or other
Positioning
Red light positioning and focusing
Lines of marking
No limited in working area
Speed
0~100m/min (depends on the material)
Supporting language
Fonts
Chinese and English, Numbers, such as traditional Chinese standard repertoire
File
BMP/DXF/HPGL/JPEG/PLT
Code
CODE39、CODE128、CODE126、QR
Other
Power
220V
Power Consumption
900W
Net weight
25kg
Size
730mmX137mmX192mm
Working environment
The external temperature 0 ℃ - 45 ℃; Humidity of 95% or less; The condensation; No vibration
7. Main Configuration Parts list
No.
Second system name
Parts name
Type
QUA./pc
Original Place
1
Laser marking head
lens
1064-3
1
US
High speed scanning lens


1
Germany
lens
NJ-110
1
US
2
Generator laser
Generator laser
30W
1
US
3
Red light positioning system




1


4
Computer and software control system
7 inch touch screen


1


Marking soft system


5
Power
Power switch
S600-48W
1
Taiwan
6
Holder
X, Y holder


1
DS
7
optoelectronic switch
Photoelectric sensor


1
US
8
Turning head




1
DS(optional)
9
Hand-holder controller




1
DS(optional)
10
Fume extractor




1
DS(optional)
8. Samples